SHK Moscow 2011 is the first intellectual trade fair in Russia:
The new format of this special event harmoniously combines technical and intellectual opportunities, gives new knowledge and new appreciation of business which cannot be achieved using traditional event formats.
The XVth anniversary of the European ABOK-EHI Symposium
"Innovative energy-efficient heating, water supply and air-conditioning equipment
for buildings.
Updates on standards and technology for 'green' building"
April 18th-20th, 2011




The organizers of the Symposium managed to achieve such results combining various formats of the business part of the Symposium with a selection of urgent topics that are in great demand within professional circles.
Among other advantages of the Symposium, the event's participants identified possible direct bilateral communication both with speakers and participants of sectional meetings and with exhibitors of the trade fair demonstrated real results of implementing scientific solutions into production. Furthermore, during the business part of the Symposium exhibitors had an opportunity to gain firsthand information about new scientific and technical achievements as well as innovative approaches.
The current relevance of the discussed tasks, the scope of the analyzed specific issues as well as the integration of two methods of communication turned the Symposium into a professional informational platform whose size and importance has no equivalent in Russia.
The number of Symposium participants included more than 700 representatives from various organizations within Russia, neighboring countries and overseas.
The Symposium included events of different formats: a forum, sectional meetings, a round table, and seminars.
In total nine events took place within the framework of the Symposium:
Forum "Energy saving and energy efficiency. Implemented projects and innovative technical solutions"
Round table "Energy-efficient thermal insulation of the building envelope"
Section "Innovative technologies for creating comfort in residential and public buildings"
Meeting: Ventilation, air-conditioning and cold supply
Section "Innovative technologies for creating comfort in residential and public buildings"
Meeting: Heating systems and heat supply
Section "Innovative technologies for creating comfort in residential and public buildings"
Meeting: Water supply and water disposal
ABOK Seminar "Air circulation plans. Specification of air circulation. Calculation methods"
ABOK Seminar "Medical preventive institutions. General requirements for heating, ventilation and air-conditioning facility planning. Comparison of standards, requirements and design solutions in Russia and in the US".
ABOK Seminar "Design of engineering systems for air-conditioning in sport complexes (ice rinks, swimming complexes)"
Workshop "Communication with the press: the How's and Why's. Special features for promoting engineering companies"
The variety of formats for business events at the Symposium has facilitated effective communication and multifaceted dialogue among the visitors. For the first time a workshop for marketing and PR-experts, dedicated to the promotion of engineering companies, took place within the frames of the Symposium. The important step towards including a wider audience was made according to the general symposium strategy, which is to promote the best integration of experts working in the field of heat supply, water supply and air-conditioning systems for buildings.
54 speeches were held by leading Russian and international specialists during the Symposium, among them representatives of companies that manufacture and supply engineering equipment.
Specialists from the following Russian towns participated in the Symposium:
Moscow, St.Petersburg, Anadyr, Bratsk, Bugulma, Veliky Novgorod, Vladimir, Volgograd, Domodedovo, Yekaterinburg, Ivanovo, Kazan, Klimovsk, Klin, Kolomna, Korolev, Kostroma, Krasnoarmeysk, Krasnodarm Lipetsk, Magnitogorsk, Mytishchi, Nizhny Novgorod, Novosibirsk, Odintsovo, Orenburg, Pavlovsky Posad, Pavlo-Slobodskoe, Petrozavodsk, Pushkino, Ramenskoe, Ryazan, Saratov, Serpukhov, Slavnoe, Sofrino, Stary Oskol, Tver, Togliatti, Tula, Ulyanovsk, Chelyabinsk, Cheboxary, Cherkessk, Elektrostal, Yugorsk, Yaroslavl.
IN TOTAL 47 Russian towns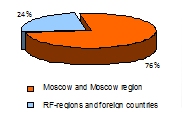 International specialists from the following countries participated in the Symposium:
Germany, China, Belarus, Kazakhstan, Finland, USA, Switzerland, Ukraine
IN TOTAL 8 countries
Geographical range of the symposium participants:
• Moscow and Moscow region – 76 %
• RF-regions and foreign countries – 24 %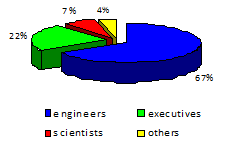 Professional structure of the participating specialists:
• Engineers – 67%
• Executives – 22%
• Scientists, professors, students – 7%
• Others – 4%
The integration of the business part into a professional trade fair is a great competitive advantage of the Symposium. It turns the event into a unique informational platform for the promotion of progressive engineering technologies and amplifies its importance for the professional society.