Energy - Efficient Building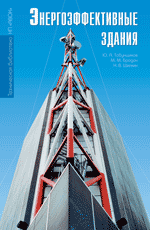 Tabunshchikov Yu. A., Brodach M. M., Shilkin N. V.
Descriptions are given of the best-known energy-efficient buildings constructed in the world since 1972: residential, public high-rise, sports, educational, and hospital types, as well as an urban settlement. Energy-efficient architectural, engineering and technological solutions are reviewed, as well as the scientific design basis of energy-efficient buildings.
The book is intended for a wide range of experts including architects, engineers, research engineers, designers, teachers and students of higher or secondary educational institutions, investors, builders, and operators.
The book consists of a foreword and 6 sections. Section I covers the first demonstration energy-efficient buildings: a federal office building in Manchester, New Hampshire, USA; and EKONO House building in Otaniemi, Finland. Section II - residential energy-efficient buildings: a multistory apartment building in the district of Nikulino-2, Moscow, Russia; rehabilitation of multifamily apartment buildings in Denmark and a pilot residential area VIIKKI, Helsinki, Finland.
Section III - high-rise energy-efficient buildings of the Commerzbank, Frankfurt am Main, Germany; and Main Tower, Frankfurt am Main, Germany. Section IV - public energy-efficient buildings: the sports center Sapporo Dome, Sapporo, Japan; the educational Adam Joseph Lewis Center, Oberlin, Ohio, USA; along with a review of the hospital and laboratory buildings. Section V discusses the scientific design basis of energy-efficient buildings, and Section VI presents some conceptual designs by architectural students on the subject of energy-efficient buildings.
The authors' objectives in writing this book were as follows:
to give a wide circle of specialist information on the best known energy-efficient buildings of various technological functions constructed in various climates;
to show that the architecture and construction sectors are entering in a basically new stage of their history and that the emergence and development of energy-efficient buildings is a reflection of the global problems of social development since the middle of the 20th century with all its positive and negative pursuits;
to show that energy-efficient buildings, being the symbiosis of creativity of the architect and the engineer, attain through this union to the acme of art;
to share with specialists our own theoretical developments in the area of creation of energy-efficient buildings in the hope of finding partners or team-mates for this work.
To obtain the source materials for this book, the authors used various scientific and technical papers, promotional pamphlets, information found on the Internet, visited the projects described in the book and talked and held discussions with architects, engineers, and operators.

The book contains many full-color illustrations.
Correspondent bank of Beneficiary bank:
SAVINGS BANK OF THE RUSSIAN FEDERATION MOSCOW, RUSSIA
SWIFT: SABR RU MM
Beneficiary bank:
SAVINGS BANK OF THE RUSSIAN FEDERATION, MOSCOW BANK
MOSCOW, RUSSIA
SWIFT: SABR RU MM 100
MARINOROSHINSKOE BRANCH 5287
Account 40702840238320100908
IIP "AVOK-PRESS"

The price of book for Europe, USA and Canada is 80 US$ include mail service. The price of book for Lithuania, Latvia and Estonia is 65 US$ include mail service.

Attention: Every book should be paid separately by separate account.

For more information please contact us
by phone : 7-095 - 921-8048
or by e-mail