Displacement ventilation in non-industrial premises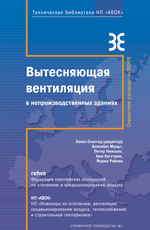 REHVA guidebook (Russian version)
This guidebook is aimed at practicing consulting and contracting engineers. It provides a comprehensive and easy-to-understand design manual that takes into account the experiences gained in practical applications and research, and answers the questions:
What are the benefits of displacement ventilation in commercial premises?
What are the limitations?
Where should displacement ventilation be applied, and where should it be avoided?
It also deals the latest development in displacement techniques, other than floor-mounted supply units. Design examples are given for the most common types of application.
Correspondent bank of Beneficiary bank:
SAVINGS BANK OF THE RUSSIAN FEDERATION MOSCOW, RUSSIA
SWIFT: SABR RU MM
Beneficiary bank:
SAVINGS BANK OF THE RUSSIAN FEDERATION, MOSCOW BANK
MOSCOW, RUSSIA
SWIFT: SABR RU MM 100
MARINOROSHINSKOE BRANCH 5287
Account 40702840238320100908
IIP "AVOK-PRESS"

The price of book for Europe, USA and Canada is 80 US$ include mail service. The price of book for Lithuania, Latvia and Estonia is 65 US$ include mail service.

Attention: Every book should be paid separately by separate account.

For more information please contact us
by phone : 7-095 - 921-8048
or by e-mail



Order Form